Propellers
IN FLIGHT MECHANICAL ADJUSTABLE PROPELLER - TYPE VARIA

PROPELLER DIAMETER : 1600mm, 1700mm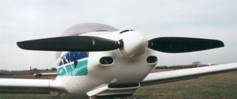 The VARIA propeller is an in flight, mechanically adjustable aircraft propeller having a mass of only 4.5 kg,. The blade angle setting system is mechanical and operates through the hollow shaft of the reducer gearbox. Two prestigious and long established aviation firms participated in the development and production of this propeller, i.e. the firm WOODCOMP (SPORT PROP) and the firm PANENKA AERO.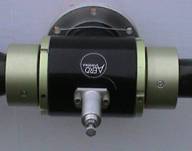 The Duralumin hub of this in flight adjustable propeller was designed to achieve the highest possible safety levels, and complies with all the latest regulations concerning fail safe operation and the control of blades angle setting. Blade angle setting is achieved by a slotted guide device in the hub, which ensures the smooth, simultaneous turning motion of the all the propeller blades, without pauses or vibration, securing precise resetting of angles of incidence. The mechanism is equipped with a stop for precise setting of the basic angle of incidence for take off, for optimum climbing and landing performance, also with a stop for the maximum angle used for high speed flight. This form of adjustment mechanism eliminates possible pilot mistakes made during hurried or imprecise setting of blade angle. There is a further significant safety element in the hub construction, i.e. the control system operates only in a single mode - pulling the control cable. In case of failure (cable break), the propeller automatically resets to its basic position - for take off, with optimum climbing and landing performance.
PROPELLER BLADES - CONSTRUCTIONAL DESIGN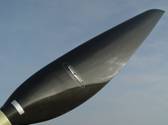 The propeller blades are manufactured with a composite shell, formed from a special, new generation fabric. This design creates an excellent sandwich construction. The rotational and centrifugal forces are transferred to the propeller hub by means of the significant structural element, i. e. composite shaped tube, which is inserted into shank, blade root and so into the blade body itself.
Blade fixation into the duralumin hub is achieved by securely clamping them, which does not allow them to turn or vibrate.
VARIA PROPELLER CONTROL AND INSTALLATION IN THE AIRCRAFT
The propeller is fixed to the propeller flange by means of six M8 bolts with plane washers and self locking nuts, tightened to a torque of 22 Nm. The control mechanism is installed through the hollow shaft of the reducer and fixed with two M6 bolts. The bolts are locked with locking wire or by LOCTITE applied to the threads of bolts. A Bowden cable is led from the control place in the cockpit to the reducer by as straight a route as possible. To control cable is fixed to the mechanism lever in such a way, that in the event of the cable releasing, the minimum angle of the propeller is set.
| | |
| --- | --- |
| Levering mechanism: | Control: |
| | |

AERODYNAMIC CONICAL SPINNERS FOR VARIA PROPELLERS:
These spinners are manufactured of composite materials with diameter of 235mm.
Dimensions of the control mechanism: